Welcome to my redesigned blog, Just Around The Riverbend! I've been so excited about making these changes and the time has finally come!
I've been wanting to make some changes for a while now as Curves and Contour was a name for when both me and my sister were supposed to be blogging. When it ended up being just me I knew I needed to make a bit of a change - and here we are.
I want to say a HUGE thank you to the lovely Jemma over at Dorkface who designed my drop dead gorgeous header - you put up with me when I felt I was being rather annoying and picky! But it's paid off and the header looks simply stunning.
Let me know what you think of the new design and any suggestions you may have. Over the next week I'll be starting a new series of posts on different place in the world where you guys live. If you fancy writing a post for me, drop me an email at nikkicossie89@gmail.com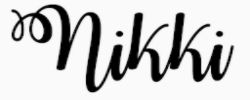 "What I love most about rivers is you can't step in the same river twice. The water's always changing, always flowing" ~ Pocahontas (1995)